HONDA TOUGH
Made from high quality materials and purpose-built components that ensure reliable long-term use
HIGH PERFORMANCE
Best in class offering plenty of power and torque
EASY STARTING
Easy, reliable starting
ADVANCED TECHNOLOGY
Apple Car Play, Cruise Control, Throttle by Wire, HSTC, the list goes on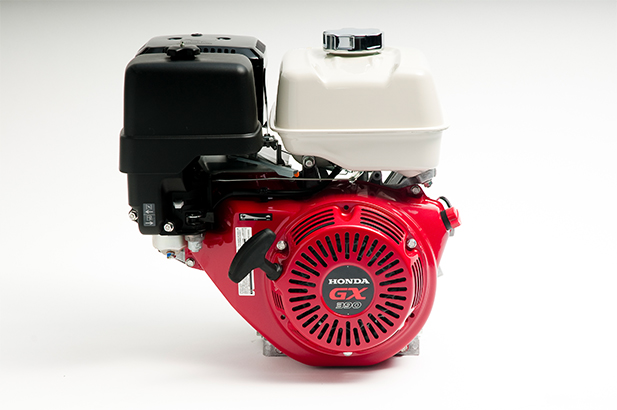 KEY FEATURES
COMMON APPLICATIONS
Honda's GX range of engines are used across a variety of applications. From Agricultural, Construction and Industrial equipment to Water Pumps, Pressure Washers, Tillers and Cultivators, Generators and Commercial Lawn and Garden Equipment, even Go-Karts! you'll find a Honda GX engine in a huge range of products used across Australia. This is because they are built with the quality, reliability and power to endure tough Aussie conditions.
FUEL EFFICIENT, HIGH OUTPUT OPERATION
The GX Engines Precision Camshaft design offers precise valve timing and optimal valve overlap for better fuel efficiency. Drawing on decades of Honda engineering with an OHV design, the GX range delivers increased efficiency and optimal power transfer for where you need it. They also incorporate a high compression ratio for better fuel efficiency than comparable engines, so the GX range will end up lighter on your pocket in the long run.
OHV DESIGN
As the name implies, Over Head Valve engines (OHV) have the valves located above the combustion chamber, in the roof of the cylinder head. The Over Head Valve layout permits smoother fuel mixture intake, plus quicker and more complete exhaust. This increased combustion efficiency, in turn, enables a higher compression ratio to be used. In this way it is possible to obtain a greater power output and to avoid the build-up of carbon. The OHV-design gives also an excellent thermal balance, which contributes to reduced cylinder distortion, a decrease in oil consumption and an increase in engine service life.
SMOOTH OPERATION
A ball bearing-supported crankshaft and precision engineered components result in greater stability and lower vibration for you, no matter what the application. The use of lightweight, noise-reducing materials and a forged steel crankshaft and rigid crankcase results in an exceptionally quiet engine that incorporates a large capacity, multi-chamber exhaust system. With a sophisticated air intake system, oil alert, large fuel tank, easily accessible spark plug and cast iron cylinder sleeve, the GX engine will work as hard as you with minimal fuss - day in, day out.
GX270, GX340 and GX390
A digital CDI ignition system with variable timing and an increased compression ratio combines with the GX270's Precision Camshaft design to offer precise valve timing and optimal valve overlap for better fuel efficiency. An improved piston design reduces mechanical noise, with an overall reduction of engine noise by up to 5 dB.
GX120, GX390, GX340, GX270, GX200, GX160
Dual element air cleaner
GX160, GX200, GX270, GX340, GX390, GX120
With a simple Throttle Control, and Automotive Type Fuel Cap, Dual Oil Drains and Fills, and Heavy-Duty Recoil Starter
GX200, GX270, GX390, GX340, GX160, GX120
Helical cut gears
GX270
For those who want a little bit more, available extras include Gear reduction options, Electric start option, Spark arrester and Charge and Lamp Coils with Multiple Output Options.
GX340, GX390
It also offers an improved piston design for the GX270. A heavy-duty balancer shaft to deliver smooth performance.
GX390, GX340, GX120
High quality materials, fit, and finish
GX270, GX200, GX160
Easy, convenient, heavy duty control box, easy starting, Automatic mechanical de-compression system and emissions compliant - GXH50.
AVAILABLE OPTIONS
GX200, GX160, GX120 have gear reduction options GX200, GX160 have electric start GX200, GX160, GX120 have spark arrester available GX200 offers charge and lamp coils with multiple output options available.