Honda Engines deliver reliable, easy starting, fuel-efficient performance to professionals and newcomers day in and day out. The Mini 4 GX Engine range consists of 3 models to choose from: GX25, GX35 and GX50. Perfect for powering Commercial Lawn and Garden Equipment. Also well-known for powering Tillers/Cultivators, Water Pumps, Agricultural Equipment and Construction/Industrial Equipment, the Mini 4 GX Engine Range delivers power to perform!
Honda tough
Made from high quality materials and purpose-built components that ensure reliable long-term use
High performance
Best in class offering plenty of power and torque
Easy starting
Easy, reliable starting
Low maintenance
Low fuel and oil consumption and easy service and maintenance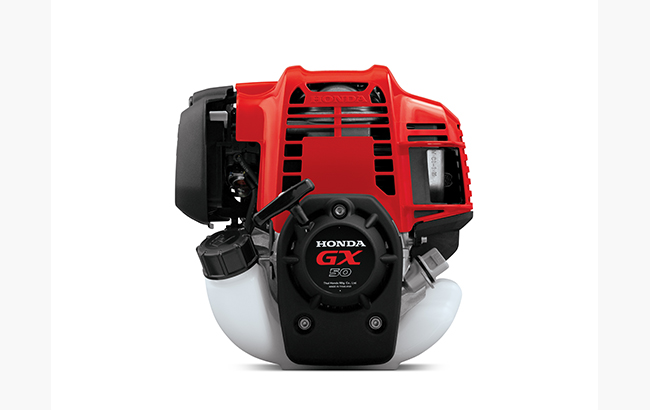 Key features
Common applications
The Mini 4 GX Engine range is perfect for a variety of applications. From powering commercial Lawn and Garden equipment such as Tillers and Cultivators, Water Pumps, Agricultural Equipment and Construction/Industrial Equipment, these engines deliver the power you need to get the job done to the Honda standard! For their size and weight, the Mini 4-stroke engines deliver the kind of efficient, clean, powerful, quiet performance that you'd expect from a larger sized range. When you see the Mini 4 GX Engine range powering Honda-branded commercial grade handheld equipment like Brushcutters and Blowers, you know you're getting a premium engine that delivers robust performance.
Advanced technology
Honda's Mini 4-stroke engines require no fuel or oil mixing, and run at approximately half the operating cost of comparable 2-stroke engines. The world's first 4-stroke engine with 360 degree "any-side-up" operation means you can use and store the Mini 4 GX engine in any position, and take advantage of the exclusive rotary-slinger lubrication system. The carburettor is equipped with an accelerator pump for fast, easy acceleration, and an efficient port configuration and large diameter valves maximise power output. Fuel efficient, high output operation, lighter, quieter, more rigid valve train… the list goes on.
Easy starting
An exhaust decompression system and unique low inertia design means the GX25 engine will start first time, every time. There's an easily accessible spark plug, and it's simple to drain and re-fill the oil, so maintenance is a piece of cake. High quality materials, fit, and finish ensure that your GX Mini 4-Stroke can be relied upon whenever you need it. Rest assured with its lifetime timing belt design, integrated fuel system protection and diaphragm carburettor.
Smooth performance
Precision engineered components and a lighter piston results in lower vibration. Also featuring ball bearing supported crankshafts for greater stability, and a roller bearing-supported connecting rod, you can't go wrong! Featuring a large capacity, multi-chamber exhaust system and sophisticated air intake system, you will enjoy exceptionally quiet operation.