Honda Engines are used by both professionals and novices to deliver reliable, easy starting, fuel efficient performance, day in and day out. The GX V-Twin series has 3 horsepower choices that are suitable for Pressure Washers, Water Pumps and Commercial Lawn & Garden Equipment. These include the GX630R, GX690R and GXV630R. The V-Twin engines can also be used for Tillers/Cultivators and other Agricultural Equipment, Generators and in many different applications.
Honda tough
Made from high quality materials and purpose-built components that ensure reliable long-term use
High performance
Best in class offering plenty of power and torque
Easy starting
Easy, reliable starting
Low maintenance
Low fuel and oil consumption and easy service and maintenance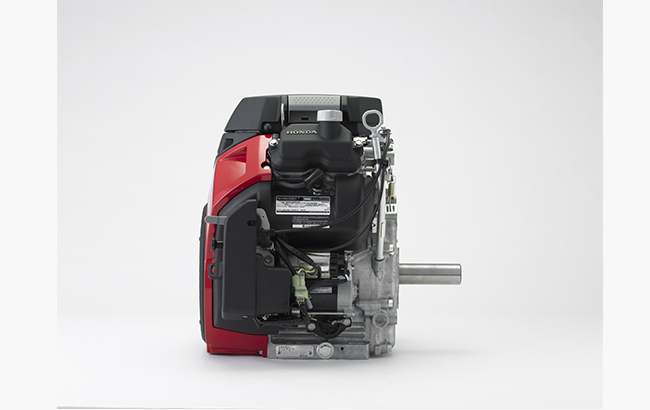 Key features
Common applications
Honda's V-Twin range of engines are the cream of the crop, powering Grain Augers, Ride-On Lawnmowers, and Commercial Lawn and Garden Equipment across Australia. The V-Twin range can also be found used for High Output Pumps, Pressure Washers and other Agricultural Equipment, Generators as well as many different applications. If it's something more demanding that you need power for, the V-Twin range can also be used in the Forestry and Construction/Industrial industries.
Fuel efficient operation
The fuel economy of the V-Twin is similar to fuel injection, with the simplicity of carburetion ensuring that running this unit is easy on both your pocket and the environment. Featuring a digital CDI ignition system with variable timing, as well as a forged steel crankshaft and insert style rod bearings for efficient operation. There's also a rev limiter to protect against damage from over-revving. A hemispherical combustion chamber delivers rapid combustion, and it features Pressure fed crankshaft bearings. Add a two-barrel inner-vent carburettor for more precise fuel metering and a 9.3:1 compression ratio, and you'll be generating high power output without the need for premium fuel.
Proven reliability
The V-Twin's high capacity pump facilitates consistent oil delivery, and a handy Oil Alert will keep you posted if you look like running dry. There's a dual cylindrical air filter, and a large diameter air intake on board for superior cooling. The result is a long-lasting, high-performing and reliable engine.
Features
Get the smoothest performance via an integrated cylinder and head as well as racing inspired forged steel connecting rods. The V-Twin range is exceptionally quiet thanks to a high capacity 36 blade cooling fan. Featuring aluminium push rods with steel clips, enjoy lighter weight, less vibration and quiet operation. The range is easy to use and maintain with conveniently located controls, with several configurations available, based on user preference. Better yet, it has an automotive-type spin-on oil filter. When there's no time to waste, you'll enjoy easy starting thanks to the automatic mechanical de-compression system and variable ignition timing.