Honda's GXV range of 4 stroke engines is in a class of its own. Consisting of a range of 3 models, the GXV160, GXV340 and GXV390 each deliver superb power without the screak noise. Used for a range of heavy-duty applications, such as commercial lawn and garden equipment to industrial/construction equipment the GXV range offers everything you need and more. They are pumped with features such as Low Oil Alert, Cast Iron Cylinder Sleeve, Dual Element Air Cleaner, Large fuel tank and Easily accessible spark plug, just to name a few. So if you're looking for an engine to power heavy duty applications, look no further than Honda's GXV range.
Honda tough
Made from high quality materials and purpose-built components that ensure reliable long-term use
High performance
Best in class offering plenty of power and torque
Easy starting
Easy, reliable starting
Low maintenance
Low fuel and oil consumption and easy service and maintenance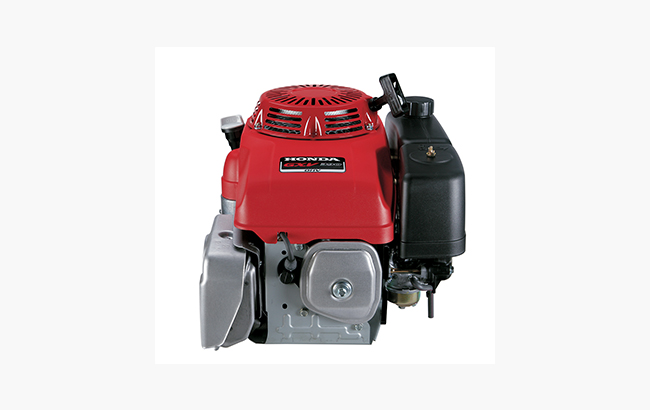 Key features
Common applications
The Honda GXV engine range is perfect for a variety of heavy-duty applications. Used throughout Australia to power commercial lawn and garden equipment, including Ride-on lawn mowers. As well as this, the GXV range is often used to power Forestry, Construction/Industrial Equipment, as well as heavy-duty Agricultural equipment. Across the range, there's enough guts to power equipment such as Mini Loaders, and is also used in Floor Cleaning applications.
Efficient engineering
The GXV engines precision camshaft design offers precise valve timing and optimal valve overlap for better fuel efficiency, and its Overhead Valve design supplies optimal power transfer. It also incorporates a high compression ratio for better fuel efficiency, which is handy for your pocket - and the environment. Precision engineered components result in lower vibration, and the GXV engine features a Ball Bearing-supported crankshaft for greater stability.
Exceptionally quiet
Compared to competitors, the GXV range is exceptionally quiet for its size and output. This is in part due to its large capacity, multi-chamber exhaust system. Its design incorporates a forged steel crankshaft and rigid crankcase, helical cut gears, and a sophisticated air intake system. Emitting less mechanical noise due to its lightweight and noise-reducing materials, you'll love the powerful output with quiet operation.